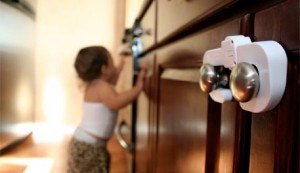 As you get ready for Spring and start rummaging through old boxes and things to put away from the winter, we encourage you to take this time to think about childproofing your home. According to the Centers for Disease Control, About 2.3 million children are accidentally injured every year and more than 2,500 are killed. That's why it's so important to carefully childproof your home. Particularly if you have young children, or even pets, childproofing your home a few times a years is a great idea.
Here's our top four tips on things you can do to get your home ready:
1. Cover all electrical outlets. To prevent your child from sticking their finger or any other objects in an outlet, use protective coverings.
2. Store household chemicals on higher shelves or cabinets. Make sure all of your household chemicals are out of reach and out of your children's way. If necessary, you can purchase shelve and cabinet locks or child-proof caps also.
3. Keep all medicine out of children's reach. Even children medication should be kept out of reach, they can easily overdose on children medication as easily as they can on adult medication. The only exception would be if the child has a medical condition which requires them to carry certain medications on them in case of emergencies. Other than that, keep all medications out of children's reach and make sure the bottles have child-proof caps.
4. Use safety gates. Install safety gates that are up-to-date with current safety standards. Use safety gates at doorways that lead to stairs, basements, attics, and other places in your home that could be unsafe for your children.
These tips originally appears on WikiHow, see all tips at: www.wikihow.com/child-proof-your-home